The Ultimate Car Scratch Remover System™  with upgraded CUSTOM touch up paint kit Bundle  will do everything the Original Version will do PLUS it do virtually ANY TYPE of touch up paint repair you will come across! This is THE most complete kit on the internet...PERIOD.
The Ultimate Car Scratch Remover System™  original kit will handle 80% of the typical normal clear coat everyday surface car scratches you will encounter.  *get the upgraded bundle if you will need touch up paint repairs.
The Ultimate Car Scratch Remover System
No Experience No Problem
Fix Car Scratches with Beautiful Results
Safe For All Modern Clear Coat Finishes
Step-by-Step Auto Scratch Removal System - No Guess Work
Professional Results Are Guaranteed Or Your Money Back
All In One Box Scratch Remover Kit - Nothing Else Needed
I really prefer to let my customers tell you about their  scratch remover success, since at the end of the day that's all that really matters.
Karl-
Hi Karl,
I want to say what an awesome product you have! I was definitely skeptical when I purchased it online but I knew that wouldn't be out anything if it didn't work due to the size of scratch I had on my vehicle. The local body shop wanted $2000 to fix the scratch but once I received the Ultimate Scratch Remover Kit I got to work on the vehicle. After about 15 minutes of opening the kit, both my wife and I were amazingly impressed with the results that we were seeing. I've been telling everyone about this product and the amazing job it did to my vehicle.
I've attached before and after pictures to share.
Cheers,
Duane
Lloydminster, AB, Canada
Dude... I've got to tell you this kit is fabulous!  I took out several ugly scratches on one of the quarter panels and on a couple of the doors.   I LOVE the safeT sand and I used it on quite a few scratches today. Thanks a bunch for a great product, oh and thanks for the window cleaning cloth.
Catch you later:
Ryan
PS  I attached pictures of my success 🙂
Karl,
I love your product.  I got the scratches out of my car and this weekend and we tried it on our son's 2000 Nissan Maxima headlight.  One was replaced in an accident and the other was the original lens (very yellow).  We always thought that was some sort of condensation on the inside.  The light got almost like new!  I am completely satisfied and have been recommending you to my friends.
Thank you!!!!
Donna
NOTE:  The Ultimate Car Scratch Remover system can restore foggy yellow headlights.
In addition to being the finest suto scratch fix  product in the world,  one of the many benefits of the this system is it can restore foggy yellow headlight lenses, as Donna found out!
You can pay $25+ for a headlight kit from the "other guys"  but you can do it for FREE when you own the Ultimate scratch removal system!
My Promise To You, You Will Get Professional Looking Results
OR I Will Refund Your Full Purchase Price.
Unconditional, NO BS…. ONE FULL YEAR money back guarantee. If you are not TOTALLY amazed with the results,  you get your full purchase price back. NO QUESTIONS NO HASSLE.
I am confident I can help you just like  I have helped people all over the world get awesome results.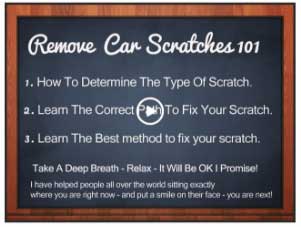 FREE - Fix Car Scratches video. Learn to use a automobile scratch remover CORRECTLY the first time. Get it  now!
Key Scratch
Random Clear Coat Scuff
Paint Chip
Basically scratches fall into three general categories.  The "trick" is to evaluate your unique situation and decide the appropriate technique (or combination).  This will  be the most important video you ever watch.  Get it now - it's free!
Send Me
Scratch-Eval Video 101 Right Now!
This video will help guide you in evaluating what type of scratch you have and the technique(s)  that would best suit them.  Don't wing it  and don't take chances!
Watch this now!
Karl

I respect your privacy and will NEVER sell, rent or share your information...PERIOD.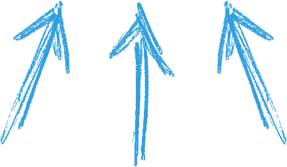 How to select the best automobile scratch remover for your situation. When you are searching for an effective scratch remover there are four things you must do to evaluate and deal with the damage you have. Understanding what type of scratch damage you have and how to effectively take care of it  makes it a snap to make the correct choice when selecting the best automobile scratch removal kit.
The first thing you will want to do is clean the area so you can get a good look at the damage.  Please be careful since a automobile clear coat is actually quite delicate.   Use a clean microfiber towel and some car wash shampoo and clean and dry the area.  A faster way is to use Kleen Freak 10 Minute Detail spray  (blog post)  wash  (non toxic water base formula) which has special additives that create a slippery surface and will prevent causing scratches while cleaning the surface.
The second thing  to consider when you discover a automobile scratch is just how severe is the damage.  There is a really easy way to do this.  Pull your finger nail across the scratch and if you  CANNOT  feel it you can permanently remove it with polish alone or a combination of wet sanding and polishing.  The automobile scratch is isolated to the top clear coat and is most likely within safe limits to permanently remove.   HOWEVER   If you CAN feel  the car scratch , or visually  it is obvious that it  has penetrated to the color, primer or metal    it then it will definitely  need touch up paint to get a nice result to camouflage the scratch.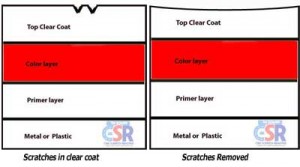 The Third thing to consider is IF the damage passes the "finger nail" test then it is possible that it can be permanently removed with  polish alone or a combination of wet sanding and polishing.   First thing you would try would be  polish alone and see how the vehicle  scratch responds.   If a couple applications of polish does not do the trick then you might have a "borderline"   clear coat scratch.   This is a scratch that you cannot really feel  (or just barely feel)  with the "fingernail" test but polish alone will not remove it.  The Ultimate Car Scratch Remover system comes with a patented.  SafeTsand sponge that is 3000 grit and makes it safe to wet sand a clear coat, even for a beginner.
Finally,  fourth thing you must consider when evaluating your car scratch damage and selecting the best car scratch remover when it is understood car touch up paint will be required.   IF the car scratch requires touch up paint then you will want to decide  what technique is best to apply car touch up paint.
There are various methods that can be done to get really professional looking results when applying automobile touch up paint.   There are several ways to apply touch up paint to get great results.  However the one you DO NOT want to do is use the brush inside of a typical touch up paint bottle. It will make a globby mess while applying the paint.   Special purpose automotive  micro tip paint touch up brushes are great for applying a precision bead of paint in a short scratch.  Another method for applying paint to a  keyed car scratch is to do a "dab and smear" technique.  And finally there is what I call "old school".  For the "old school" touch up paint paint technique you apply paint with precision of a micro tip brush and then wait 24hrs and precision wet sand the bump of paint and then polish it out.  The "old school" method is the most difficult and the most time consuming and you really only get one try to get it right and the process cannot be repeated since you run the risk of taking too much clear coat off the surrounding area.   The "dab and smear" technique is fast and can be redone as many times as you want without any harm to the surrounding good clear coat finish.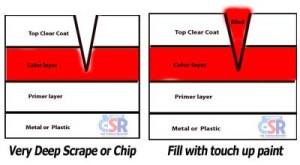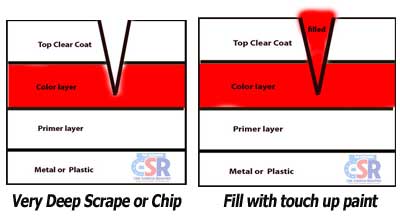 Go here for Car Touch Up Paint tips.
One last thing! The one thing most beginners forget when removing vehicle scratches is after the car scratch is removed or touch up paint repairs completed you must apply wax or a modern automotive paint sealant to protect the restored paint finish.